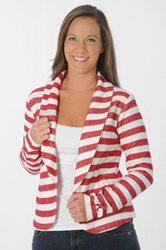 Chicago, Il (PRWEB) October 27, 2014
University Girls Apparel is in the business of dressing women in the most comfortable, fashionable, and trendy women's collegiate apparel. Launched in 2011, UG brings style and femininity in college fan wear to women everywhere!
This season, UG Apparel introduced their fourth collection with a full line representing 19 schools. UG Apparel is not wasting any time, and has already gotten to work, starting the production process for next season's line. Nesha Sanghavi, founder and owner, is just returning from meeting with her manufacturing partners about the collection. They are already planning what fashionable alumnae across the country will be wearing next football season!
The company looks to continue their growth as they seek more university licenses for next season and seasons to come. UG Apparel looks to extend their reach to clothe female fans of every NCAA football team. As long as college football is a well-loved pastime to students, alumni, and fans, UG Apparel has vowed to be there, to give women the perfect outfit for every game. You can visit them online at ugapparel.com to see a full list of schools and to find a campus store near you.
Related NCAA Football Press Releases